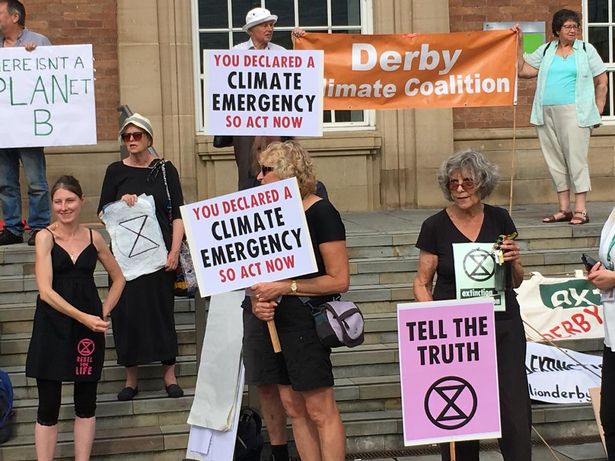 Derbyshire Climate Coalition campaigners would like to give you an update on what has been happening. The following councils have declared a Climate Emergency (the dates with embedded links to council papers are shown in brackets).
Derby City (22/05/2019); passed unanimously but no date, little follow up action but it has agreed to appoint a paid climate change coordinator.
Amber Valley Borough (24/07/2019); Motion passed for net zero by 2030.
Chesterfield Borough (17/07/2019); failed to include date of 2030 or accept amendment to do so.
Derbyshire Dales District (30/05/2019); Motion strengthened and unanimous.
High Peak Borough (15/10/2019); Motion passed unanimously – 2030 date.
NE Derbyshire District (08/07/2019); Motion amended (80% reduction by 2030 with aim of 100%).
South Derbyshire District (27/06/2019); Unanimous but watered down.
THREE COUNCILS HAVE DEBATED THE EMERGENCY BUT REFUSED TO DECLARE IT FORMALLY, namely :
Derbyshire County Council (15/05/2019); the Council issued an alternative climate manifesto and, despite issues with the Leader of the Council, some good work is being done in partnership.
Bolsover District Council (17/07/2019);the motion amended to debate need for motion at future date.
Erewash Borough (10/10/2019); Motion passed for net zero by 2050; wholly complacent response. Note that lawyers from ClientEarth have warned this council that they will violate their legal obligations and risk legal challenge if they do not introduce proper climate change plans. See https://www.clientearth.org/press/lawyers-put-local-authorities-on-notice-over-climate-inaction/ .
It is great that all the councils have made some moves and some actions are being taken. But there is a lot more planning and lobbying to be done. We need councils to turn their political promises in to concrete action – leading the way where the national government continues to fail.