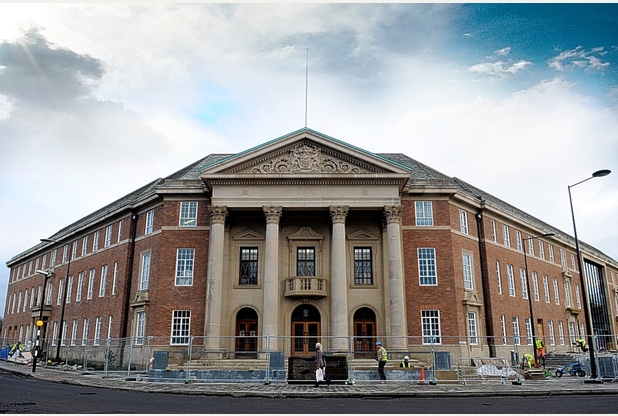 Press Release: For Immediate Release 8 March 2018
This week Derby City Councillors called on the Derbyshire Pension Fund to divest from fossil fuel and fracking companies [1]. Councillors voted overwhelmingly in support of a motion [2] to reduce fossil fuel dependence in order to prevent climate change and reduce the financial risk to pension members.
Derby City Council is one of 10 local councils and 190 employers that are members of the £4.2 billion Derbyshire Pension Fund [3] which is managed by Derbyshire County Council. Two Derby City Councillors sit on the Committee which manages the Pension Fund.
Councillor Lucy Care (LibDem) who moved the motion said:
"We need to make our pension funds work for everyone. As more money comes out of fossil fuels and into sustainable alternatives there will be a growing risk of keeping ones' money in fossil fuel. We don't want our pensions invested in fossil fuels and fracking, we want investment in renewables and clean energy and need to leave fossil fuels in the ground."
The majority labour group in the Council supported the motion. Councillor Lisa Eldret (Lab) said:
"Climate change is something that really matters. It impacts all of us but particularly the poorest people in the world. It will leave hundreds of millions of people vulnerable to extreme weather events and cause catastrophic loss of life.  The labour group in Derby City Council want to make sure our pension funds do not contribute to climate change and instead are used in an environmentally responsible way that promotes green jobs."
Peter Robinson of Derby Climate Coalition, a member of the Divest Derbyshire campaign [4] said
"We welcome the lead set by Derby City Council and we hope this sends a strong signal to the Derbyshire Pension Fund that they shouldn't be continuing to invest in an industry that is financially risky and morally bankrupt."
David Clasby, Co-convenor of Derby Green Forum said:
"We are proud that Derby City Council has taken the lead on climate change, one of the biggest threats facing humanity. Instead of ploughing money into companies like Exxon and Shell we should be using our pension funds to benefit society and invest in more forward thinking industries. This result demonstrates that getting involved with local politics can make a real difference. It is possible to think global and act local, it can make a difference."
Recently MPs have written to the 25 largest pension funds in the country, including some of the large council pension funds, asking them how they are addressing climate risks.[5]
Full divestment commitments have so far been made by two UK council pension funds, with a further four making partial commitments [6]. The campaign to divest local council pensions has also received backing from Unison and the Trades Union Congress (TUC) [7].
CONTACT:
Lisa Hopkinson (Divest Derbyshire), transitionchesterfield@yahoo.co.uk
NOTES
The Pension Fund has £257 million invested in the fossil fuel companies, which includes £143 million (55%) in companies with major fracking operations.
The motion was debated at the full council meeting on Tuesday 6 March. The full motion can be found here (agenda item 14): https://cmis.derby.gov.uk/cmis5/MeetingsCalendar/tabid/73/ctl/ViewMeetingPublic/mid/410/Meeting/8703/Committee/1881/Default.aspx
The pension fund affects over 190 employers in Derbyshire including Derbyshire County Council, all the borough and District Councils in Derbyshire; Derby City Council; Chesterfield College; Derby College; Derbyshire Fire Authority; Derbyshire Police Authority; Peak District National Park Authority; University of Derby and a large group of smaller employers.
The Divest Derbyshire campaign is supported by 21 organisations across Derbyshire (in alphabetical order): Amber Valley Against Fracking; Bolsover Against Fracking; Calow Against Gas Extraction (CAGE); Chesterfield and District Trades Union Council; Chesterfield Climate Alliance; Clay Cross Against Fracking; Coal Aston and Dronfield Against Fracking; Derby Climate Coalition; Eckington Against Fracking; Glossopdale Transition Initiative; Melbourne Area Transition; Sustainable Edale; Sustainable Hayfield; Transition Belper; Transition Buxton; Transition Chesterfield; Transition Hope Valley; Transition Matlock; Transition New Mills. Transition Wirksworth; University of Derby Students' Union. In March 2017 the campaign submitted a petition signed by over 1,000 people calling for the Derbyshire Pension Fund to divest from fossil fuels.  See http://transitionchesterfield.org/divest-derbyshire/
http://www.parliament.uk/business/committees/committees-a-z/commons-select/environmental-audit-committee/news-parliament-2017/green–finance-chairs-cooments-17-19/
Waltham Forest and Southwark Council Pension Funds have committed to phase out all fossil fuel investments from their portfolio. To see the full list of global divestment commitments, visit: gofossilfree.org/commitments
Read more on Unison's decision on Platform's blog. View the text of the TUC motion – adopted unanimously – on the Trade Unions for Energy Democracy website