More than 20 people attended another stimulating meeting of Derby Green Forum, which met on Tuesday Feb 28th at Derby Council House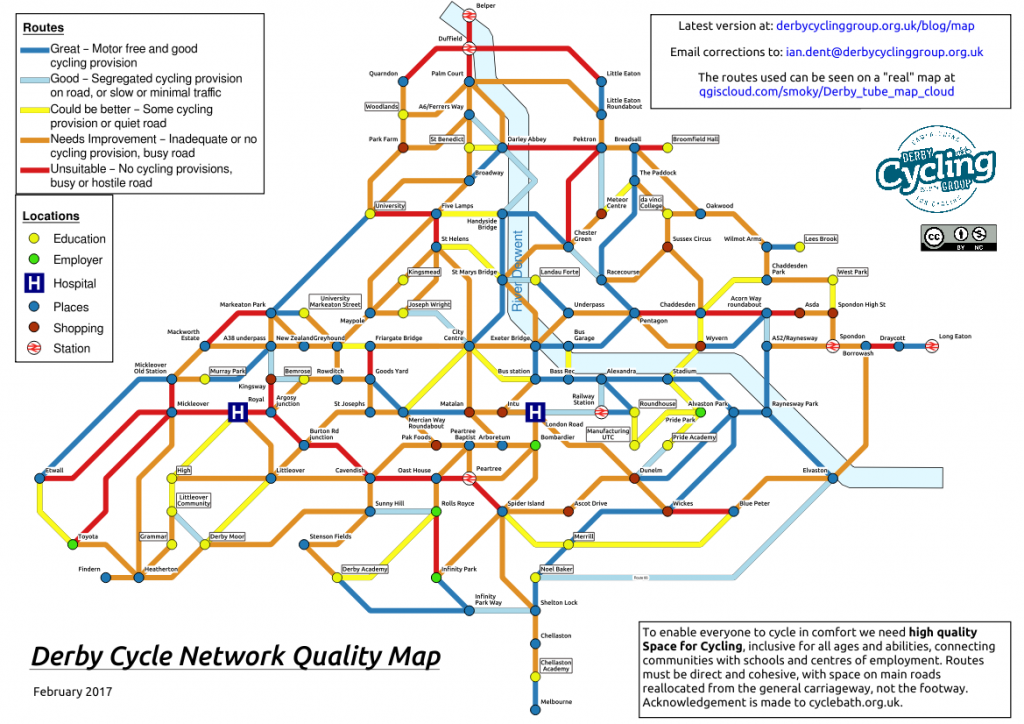 People were delighted to see the tube map diagram, presented Tony Roelich from Derby Cycling Group, showing cycling routes in Derby, Have a look here  tube map.
Adam Sendall from Derby City Council kicked off the meeting by  looking at statistics of people using bike hire, lots of benefits, Derby scheme main target students and commuters, key destinations, normalise cycling, political support, partnership Uni of Derby, sponsorship ?, confidence and skills ie adult cycle training, infrastructure, looking at red areas on the tube map, quality bikes, good price. E bikes.
Martin Dent from Seven Trent gave a talk about climate change, why Seven Trent is interested and what they are doing. Martin looked at hydro electrical generation, anaerobic digesters, combined heat and power plants, crops on contaminated land can be crop digestion plant, wind turbines 2 in Derby which work in wind speeds 3 to 25 m/s, also purifying the produced bio gas and putting it in to the national grid, food waste can also be used. 7 million tons of food goes to land fill, could be used to generate energy or gas for grid. Solar power also used. Want to get renewables up to 50% of 7T needs. Also looking at the heat in sewers, which is at around 15c.  Use £66 million of electricity, generated 33% of its own energy from renewables.
David Brook reported back on the anti- fracking demo in Eckington in NE Derbyshire on Saturday the 28. There were 360 people there , strong support from the community including the Parish Council.  He also promoted the meeting Derby Climate Coalition networking event: see the website.
Next Meeting  is provisionally Thursday May 25th.  To be confirmed.
The notes for the meeting can be downloaded by clicking on this link