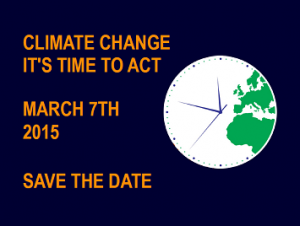 Report on TIME TO ACT ON CLIMATE CHANGE rally held on the 19th of November.
Organised by Derby Climate Coalition, chaired, by Keith Burchell.
45 people attended and 12 other organisations.
Everybody said it was a good and useful meeting. The speakers were excellent and it was exceedingly useful to hear how and what the other organisations were doing in relation to Climate Change.
FOR DETAILS click below
Introduction by Peter Robinson

There is no longer any scientific argument against anthropogenic climate change
State of climate change is worse than suggested by IPCC report; which reports all that could be agreed, and is therefore the lowest common denominator.
Extreme weather events are on the increase and even things like things like volcanoes, tsunamis are said to be on the increase. (Ref Bill McGuire who lives in Brassington)
The recent US/China deal was ambiguous
Hundreds of climate marches took place in September; the spirit is positive, epiphanic, expansive.
Contributions from associated organisations
Keith introduced a number of short contributions from associated organisations. They were limited to 2.5 minutes each.
1    Towards Sustainable Derby (Quakers)                    Steve Adams      Meetings held 3rd Sunday of every month at Friends meeting House
www.nottsandderbyquakers.org/local-meetings/derby/sustainable–derby
2    Friends of the Earth                                                      Dorothy Skrytek  Ongoing issue with Sinfin incineration plant
According to Biffa, there is no contamination problem with waste.Derby CC and Derbys CC have agreed they cannot afford incineration plant; and that recycling scheme is working well.
Operational efficiency of Local air quality control points is in question.
Vigil against incineration scheme at Matlock 2 December      http://www.foe.co.uk/groups/derby
3    t4 sustainability    John Beardmore                         After a lean period, business is building up. Much work being done for the Carbon Trust
www.t4sustainability.co.uk
4    World Development Movement, soon to be known as Global Justice Now       Heather Watkins     Recently active with energy justice campaigns;
Ongoing carbon capital campaign.
Currently promoting Fuel Action group
www.wdm.org.uk
5    Derby Diocesan Environment Group                         Terry Thake        Promoting care of environment; working on information pack for environmental issues.
Several churches locally have reached 'eco-church' status; Melbourne and St Barnabas Derby have had solar fitted.
www.derby.anglican.org/…/environment
6    Sound Bites            Ruth Strange                              independent wholefood shop and not-for-profit workers co-op actively working for positive climate-friendly social change.        www.soundbitesderby.org.uk
7    Sustrans and Derby Cycling Group                         Dave Clasby      Engaging with local authority to promote cycling, walking & public transport.
Promoting joining Neighbourhood Boards, where funding is available to bring about change
www.derbycyclinggroup.org.uk
www.derby.gov.uk/council-and…/neighbourhood.
8    Indian Workers Association
                     Speaker unable to attend, but association supports climate issue
9    Derby Unite Community Branch                             Peter Robinson  50p/week unite community membership
HS2 meeting at Derby Council House on 4 December; register ASAP at       www.unitetheunion.org/growing-our-union/communitymembership/
http://hs2inderby.eventbrite.co.uk
10  Trades Council     Richard Morgan                         'There are no jobs on a dead planet'
Aim: to avoid climate related poverty, disease, unemployment and avoidable death, by developing an alternative economic model based on people's needs, human rights and fair distribution of wealth.
11  People's Assembly                                                      Martyn Crooks   Supports 'Action for Rail', promotes 'One Million Climate Jobs., took part in September Climate March.
Facebook:  pages https://www.facebook.com/derbypa and the group is at https://www.facebook.com/groups/derbypa
Website – https://derbypa.wordpress.com/
12  Transition Belper John Shoesmith                        Building a sustainable Belper; various campaigns including engaging where possible with local authority.
Belper Goes Green event 31 May 2015
www.transitionbelper.org
Main speaker: Danni Paffard
Keith introduced the main speaker, climate change activist Danni Paffard.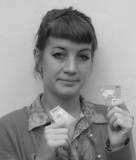 Danni Paffard, from 350.org
Danni is a founder member of UK Uncut, was involved in the West Burton power station occupation, and is currently involved with 350.org, started by Bill McGibben, particularly concerning divestment from fossil fuels, and the pacific warriors climate change campaign.
She told us that there have already been big wins in the divestment campaign, within universities, Stanford being the first to divest, and Glasgow the first European university to divest.
City authorities, faith groups (eg Quakers) are aiming for divestment.
Hundred and eighty-one institutions and over 600 high profile individuals have committed to divestment so far, including the Rockefeller foundation, and the BMA. The campaign is committed to socially and morally bankrupting the fossil fuel industry. Next February there will be a  Divestment Day Global.
Questions were then taken from the floor.

What about China?
A. China is doing well, if slowly; conscious it must address its pollution problem too. Commitment by Obama and Chinese president good news.
How do we proceed? And get young people involved
A.  Generate Local organisation; community action.
Many universities are campaigning; though there is no action group at University of Derby
What about incineration?
A. To deal with our waste sustainably, we need to focus on prevention, reuse, recycling and the generation of 100% renewable energy via anaerobic digestion. See FOE site.    http://divestinvest.org/ aren't recommending specific positive climate impact investments will be developing suggestions
What can we do about divestment regarding pension funds?
A. Many are campaigns are starting through People and Planet and Universities. See http://shareaction.org/greenlightcampaign http://gofossilfree.org/uk/ and http://moveyourmoney.org.uk/
Flooding insurance
A. Insurance companies are a leading sector in recognising climate impacts on business costs
Is it worth targeting individual politicians?
A. Yes, always.
Russell Brand?
Making the right noises on divestment. Listened to by some.
Is it worth looking at Ebico as an energy supplier?
A. Yes, see www.ebico.org.uk
Keith thanked Danni for her enthusiastic contribution.
Finally
Peter Robinson wound up the meeting, urging those present to get involved with Derby Climate Coalition steering group, so donate if possible. He said that important links were being forged with the unions, that further public meetings would be held.
He publicised the 'Time to Act' march next March 7th organised by the Campaign Against Climate Change (nb Climate Coalition is calling for a mobilisation in June), and the need for a delegation to go to Paris for the climate talks next spring.
A collection raised £66 to contribute towards expenses for the meeting. Nine  Million Climate Job pamphlets were sold.