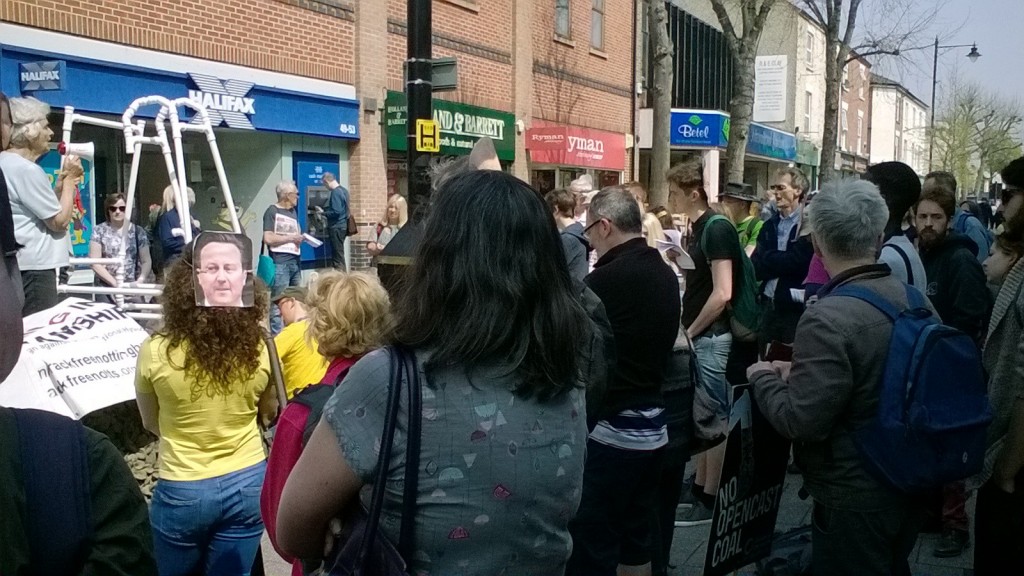 On Saturday the 7th of May, protesters met on Beeston High Street just outside Nottingham. There was a lively protest attracting much public attention about how the Conservatives have undone actions to limit climate change since they were elected a year ago.
In 2008, the Climate Change Act committed the UK to cut greenhouse gas emissions by 80% by 2050. Recognising the crisis faced and the need for urgent action, all major parties supported it. But since the current government took office on 8 May 2015, there have been a series of major policy reversals taking us backwards on climate action.
Subsidies for solar panels on homes have been cut and planning obstructions make wind farms difficult to build. Meanwhile, the Climate Change Levy, designed to promote clean renewable energy, has been extended to tax renewables as well as fossil fuels. Cuts to 'Green Deal' loans and the ECO scheme to help poorer households mean that the number of energy efficiency measures installed in British homes has fallen by 80% since 2012. Tax breaks and subsidies are encouraging even more fossil fuel use.
Over 50 protesters, with 15+ wearing Cameron masks staged a walking backwards simulation for the media before marching to Anna Soubry MP's (Minister for Business) constituency office to deliver a letter of protest. Diverse protesters, young & old, came  from a variety of local environmental groups with speakers from Frack Free Notts, Nottingham Global Justice Now, local anti TTIP campaigners, The Green Party, a local Labour Councillor and neighbouring Derby campaigners.
The Nottingham Post & the Beestonian papers were in attendance & an interview with a local radio station (Kemet FM) was taken the day before – with weekly audience of 50,000.